A state-owned development company in Beijing, mainly engaged in the integrated business of international operation of civil blasting industry and mining services, is one of the largest import and export enterprises of civil explosives products in China. It participates in many "Belt and Road Initiative" projects and can provide customers with an integrated solution for the entire industry chain from blasting raw materials to piercing and blasting services, mining products trading and mining services.
TAIYE has a stable and reliable cooperative relationship with the company for many years, providing efficient open-pit rock drilling equipment and related parts and consumables for its projects in African regions such as the Democratic Republic of the Congo, Guinea and Nigeria.
In recent years, the company has been vigorously pursuing the strategy of "reducing people by mechanization and replacing people by automation", and has introduced advanced mechanized equipment to replace labor to improve work productivity and safety. The newly developed TAIYE-X45 series of integrated hydraulic DTH drilling machines developed by TAIYE are equipped with a Maltese-structured automatic rod connecting and unloading device, which saves the trouble of slowing down the progress of the project with frequent manual rod connecting and unloading, and greatly improves the mechanization and automation level of its mining area. They are equipped with two-stage high-efficiency dry dust removal system with 16 filters as standard, helping to build a more green and environmentally friendly intelligent mine.
"We are very concerned about safety, productivity and intelligence in production and operation," said the company's general manager. "I believe that by introducing TAIYE's new automatic equipment, we can further strengthen our development in the field of overseas blasting and help the company's industrial transformation and upgrading. "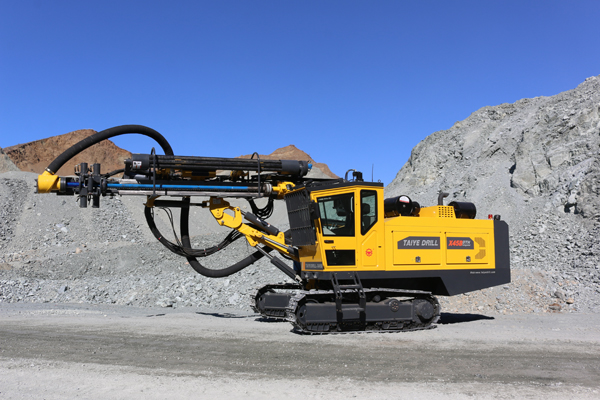 In order to ensure the smooth delivery and stable operation of the equipment in the cooperation, TAIYE has conducted in-depth discussions with the company's technical department and after-sales service department on how to ensure the supply of on-site spare parts, technical support, service plans and so on, and has developed a complete set of plans to provide more high-quality and faster parts supply and response.
TAIYE is very pleased to establish such an important cooperative relationship with the company. At present, we have successfully provided strong support for many state-owned enterprises' overseas projects. No matter where you are, TAIYE can provide you with a full range of service support.